THE ART OF FINDING JEWELRY THAT WORKS WITH EVERYTHING
Finding jewelry that works in a series of different settings is also my goal when buying a new piece of clothing. I want the piece to last, open up new combinations with what I already own and at the same time, stand the test of time.
Having a few pieces of jewelry that does the same thing is so great, it makes it easier to put together a look in the midst of a busy schedule or planning your suitcase content for a destination wedding or getting ready for a cosy fall date.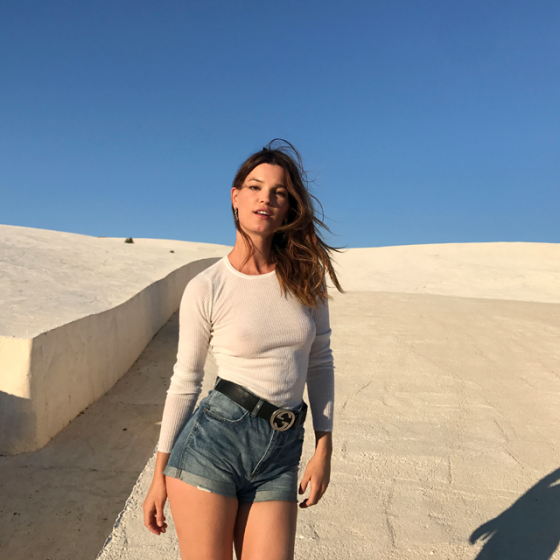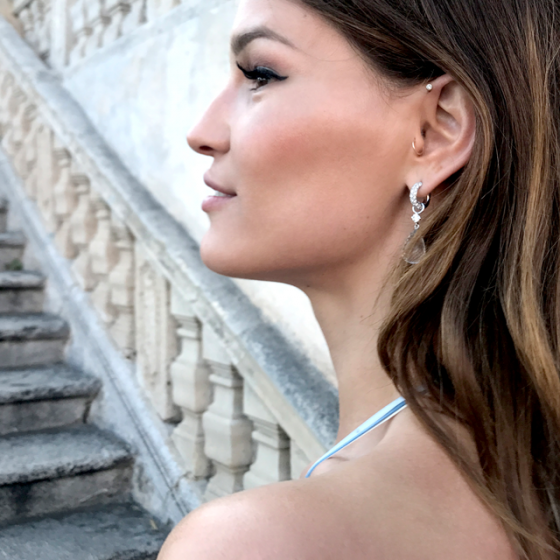 I absolutely love these quarts and diamond earrings from Langaard, they work with everything! This summer I went to a three-day wedding in Taormina – Sicily, and I ended up using them all the time. My evening looks got that extra oomph from when the candle lights hit them and gave them and me that pretty sparkle. At the same time, they worked really well for my day looks at lunch while wearing my white linen shirts and high waisted jean shorts, they refined those relaxed looks in a perfect way. Now that fall is upon us, I can't wait to combine the earrings with woolen sweaters and cosy pieces.
Fall is such a wonderful season and one of my favorites! That feeling of getting wrapped up in chunky knits while putting away the summer dresses, getting my jeans and corduroy out is the best! It does get darker out earlier in the evening the closer to winter we are, but I have a trick to get my outfits to pop! Which is colorful earrings like these babies. Wool is a matt texture that swallows light, so adding something fun and sparkly is one of my best fall tricks.
I would use these beautiful earrings with knits and tops in nude. I tend to combine soft colors so there's no contrasts and that way the jewelry doesn't become overbearing.
While these ones are great to wear with a bright red chunky knit. The red color gets picked up, while the cool combination of orange and purple breaks the red up a bit. Lots of color!
These cuties are incredible together with a white knit and mid-blue high-waisted jeans. I love picking up the same color with my jewelry from what I am wearing and overdoing the same tone throughout the outfit so it becomes a thing.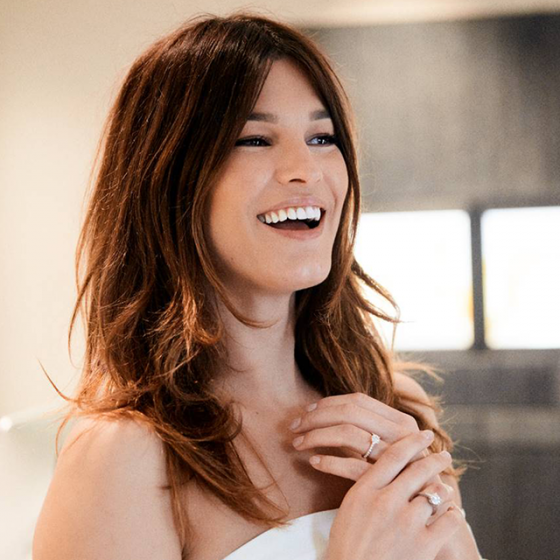 Nothing compares to an original
I dropped by the Langaard store today and they had just finished some beautiful new engagement rings. I have not really thought that much about engagement rings as I am still 'unengaged' so I had some questions.
The atmosphere is warm and inviting as I sit and chat for a while with Conrad Jnr. and Ingrid Woodhouse on a large velvet sofa with a view out to Stortingsgaten. The have an enormous amount of knowledge and a love for their work. I listen intently as I take in the beauty of the rings they are presenting for me.
First Conrad Jnr. explains that it's vital to know your partner really well when choosing a ring. He explains that even then it is not easy to know which will be the perfect ring. Fortunately the staff at Langaard are skilled at asking just the right questions to create an accurate profile of the clients intended. He continues enthusiastically to explain that the first step is to decide how the diamant is to be cut. I thought that I liked the 'Princess cut', a kind of Disney diamond, like the emoji. The truth is that the 'Princess cut' is actually square, not round as I had imagined.
The next step is to decide on which type of precious metal, when you think you are seeing silver it is probably actually white gold or platinum. At Langaard they tend to use the latter, it is both more valuable and is more flexible to work with in addition to being a purer white metal. You also avoid a gold patina on the surface which happens when the rhodium plating on white gold is worn off. When this happens the ring has to be rhodium plated again.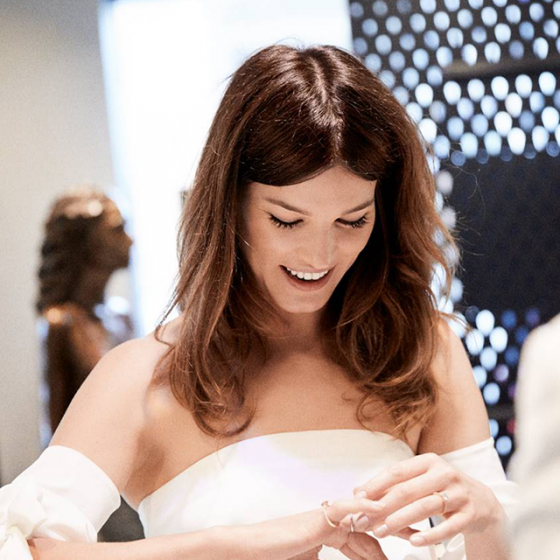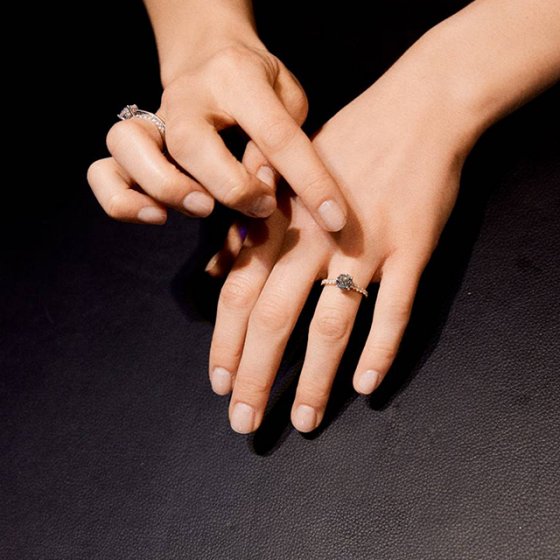 Rose gold is also lovely and is often more flattering on pale Norwegian skin due to the warmth of the colour. This makes it often a better choice than standard gold which has a slight green tint. While most people choose white gold or platinum it's nice to hear that some go for the more untraditional rose gold which is just as beautiful but more unique.
Then the choice moves on explains Ingrid, to if you prefer a ring with a single stone, a single stone with additional stones or maybe a three stone ring? You also have to consider the setting for the diamond, perhaps a 6-prong, 4 prong (possibly a double prong) or Sarie (a metal mount). It can also be a beautiful addition to supplement the main stone with smaller stones so that it almost bathes in diamonds (Halo mount).
After our consultation I took a tour around the Langaard workshop which is situated over their store. Their master craftspeople utilise a myriad of instruments and precision machines to do their magic and create truly beautiful jewellery. One designer sits and creates precise pencil drawings while another polishes precious stones while a third measures something with unimaginable precision. It is fantastic to see how they work and have such passion for what they do. I find it so inspiring every time I visit them.
I now have a clearer idea of what I want and can't wait until the day it is finally my turn. It will be great fun to drop small hints for my future husband!
Dressing up when dressing down
After having attended a lot of events in a row, one of my favorite things to do is to dress down. But always with a twist, for example with one or a lot of incredible diamonds! Now that the holidays are over and with all the dressing up that they require, I welcome a subtle vibe for dinner with friends and everyday life.
To make a pair of high ankle jeans more interesting, there really are no boundaries. A cool look would be achieved by adding these beautiful, large two Part earrings in white gold with diamonds and combine with a loose, white shirt with rolled up sleeves. Comb the hair into a sleek low bun and a pair of elegant high heels or sneakers. Since the earrings are the main attraction, it's lovely to compliment them with this sleek bracelet. It gives just the right touch of shine on the wrist and beautifully frames the entire look.
Now that it's rather cold outside, it's a great feeling to wrap oneself in cosy knits. To glam it up a bit, I love adding a pair of large earrings. It makes an overall strong, sleek statement. Like these gorgeous Spike earrings from the White Diamond Collection. It brings a beautiful shine to matte knits and heavy coats.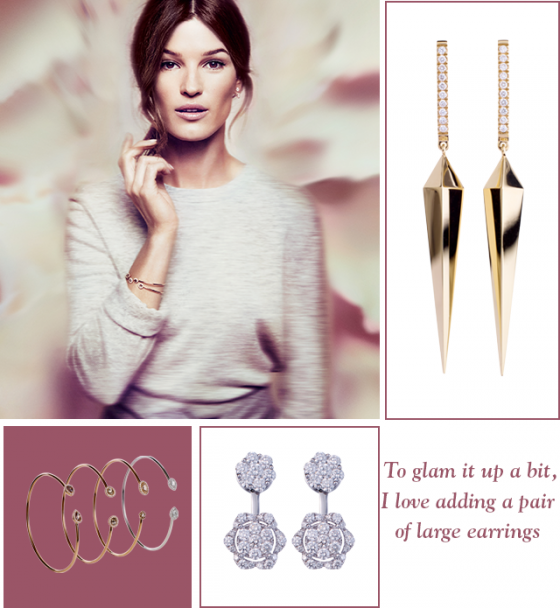 Do's and don'ts for Christmas
Christmas is soon coming up and as it's my favorite holiday, I'm really excited! Dressing for Christmas can be a challenge. One thing I always stick to, is to never match the holiday colors, like red or green. There are enough of those colors presented in the decorations and all the ornaments. 
I haven't decided on my dress yet, but so far my choices are a black, white or a pastel pink velvet dress. They are all in nice, clean colors that will stand out amongst all the decorations, as well as letting my jewelry shine properly. As they should! 
For the white dress, I'd combine jewelry with some color, like these champagne colored diamonds from The Coloured Stone Collection. They'll provide a delicate combination of soft beautiful colors that will accentuate the outfit.
 The black dress is a completely different alternative. I love how it's sophisticated, though a tad dramatic with its high slit. For a dress like this, I like to combine it with jewelry with clean and sleek lines, like these Cocktail Earrings in rose gold. They work elegantly together with the dress and accentuates it beautifully with sophistication. As the earrings are so beautiful on its own, I like to use a bracelet instead of a necklace to keep the balance throughout the outfit, while at the same time keeping the perfect amount of bling.
 If I end up choosing the pastel pink dress, it would be fun to completely break the mold from such a soft pink color and combine it with these Black Diamond Earrings in white gold. Which will give a cool edge as well as a tranquil elegance. I'll add this incredibly beautiful ring from the White Diamond Collection, to finish it all off on a complete high note.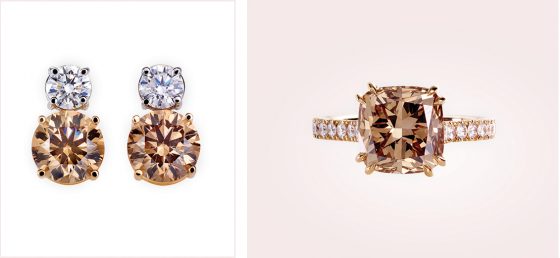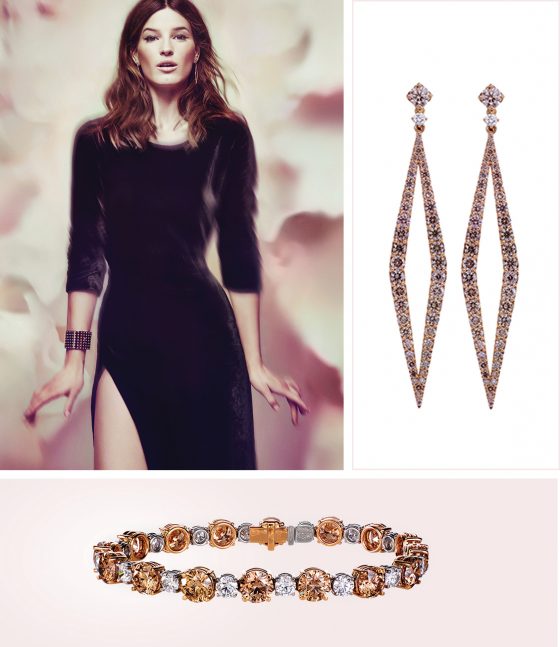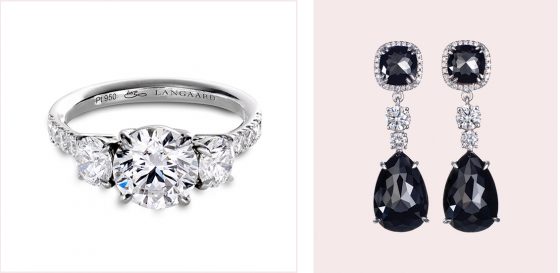 About
Hanneli Mustaparta
Hanneli Mustaparta began her career as a model. She is now dazzling the world with her style, camera and Langaard diamonds.
Hanneli`s Unique sense of style, her boldness and her attention to detail are a perfect match for the Langaard brand
Juvelér Langaard is proud to present the style icon Hanneli Mustaparta as it's new face. Mustaparta grew up in Oslo and started her career after being discovered in the street at the age of seventeen. She moved to Paris and then to New York modelling for leading fashion magazines like Vogue, Harpers Bazaar and Elle. She ended her modelling career after seven years to work as a stylist and start the fashion blog Hanneli.com. She was quickly voted as one of the world´s ten most important fashion bloggers and received International acclaim. Her focus turned quickly to photography and after barely two years she was covering street fashion in New York for Vogue magazine. Hanneli is now based in New York where she works as a photographer. Her unique, eclectic style is widely admired and she can have been seen in leading fashion magazines and at the International fashion shows.
We are so fortunate that Langaard comes from Norway. They are a prestigious jewellers and luxury brand who I have wanted to work with for a long time