Dressing up when dressing down
After having attended a lot of events in a row, one of my favorite things to do is to dress down. But always with a twist, for example with one or a lot of incredible diamonds! Now that the holidays are over and with all the dressing up that they require, I welcome a subtle vibe for dinner with friends and everyday life.
To make a pair of high ankle jeans more interesting, there really are no boundaries. A cool look would be achieved by adding these beautiful, large two Part earrings in white gold with diamonds and combine with a loose, white shirt with rolled up sleeves. Comb the hair into a sleek low bun and a pair of elegant high heels or sneakers. Since the earrings are the main attraction, it's lovely to compliment them with this sleek bracelet. It gives just the right touch of shine on the wrist and beautifully frames the entire look.
Now that it's rather cold outside, it's a great feeling to wrap oneself in cosy knits. To glam it up a bit, I love adding a pair of large earrings. It makes an overall strong, sleek statement. Like these gorgeous Spike earrings from the White Diamond Collection. It brings a beautiful shine to matte knits and heavy coats.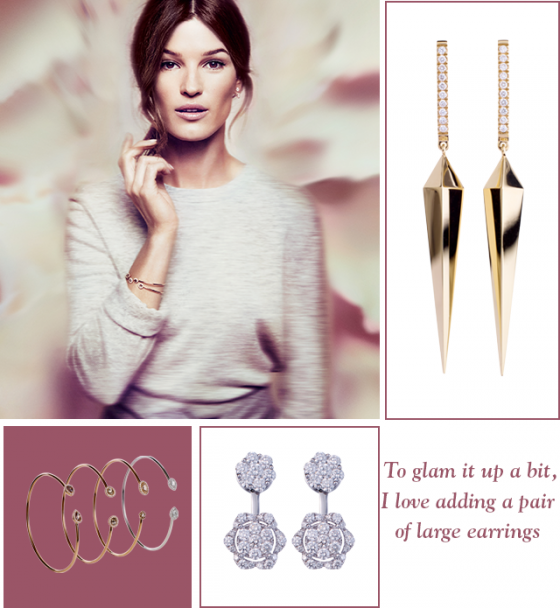 Do's and don'ts for Christmas
Christmas is soon coming up and as it's my favorite holiday, I'm really excited! Dressing for Christmas can be a challenge. One thing I always stick to, is to never match the holiday colors, like red or green. There are enough of those colors presented in the decorations and all the ornaments. 
I haven't decided on my dress yet, but so far my choices are a black, white or a pastel pink velvet dress. They are all in nice, clean colors that will stand out amongst all the decorations, as well as letting my jewelry shine properly. As they should! 
For the white dress, I'd combine jewelry with some color, like these champagne colored diamonds from The Coloured Stone Collection. They'll provide a delicate combination of soft beautiful colors that will accentuate the outfit.
 The black dress is a completely different alternative. I love how it's sophisticated, though a tad dramatic with its high slit. For a dress like this, I like to combine it with jewelry with clean and sleek lines, like these Cocktail Earrings in rose gold. They work elegantly together with the dress and accentuates it beautifully with sophistication. As the earrings are so beautiful on its own, I like to use a bracelet instead of a necklace to keep the balance throughout the outfit, while at the same time keeping the perfect amount of bling.
 If I end up choosing the pastel pink dress, it would be fun to completely break the mold from such a soft pink color and combine it with these Black Diamond Earrings in white gold. Which will give a cool edge as well as a tranquil elegance. I'll add this incredibly beautiful ring from the White Diamond Collection, to finish it all off on a complete high note.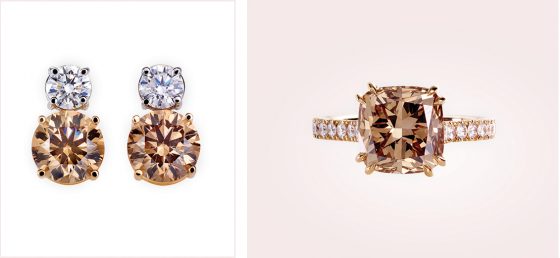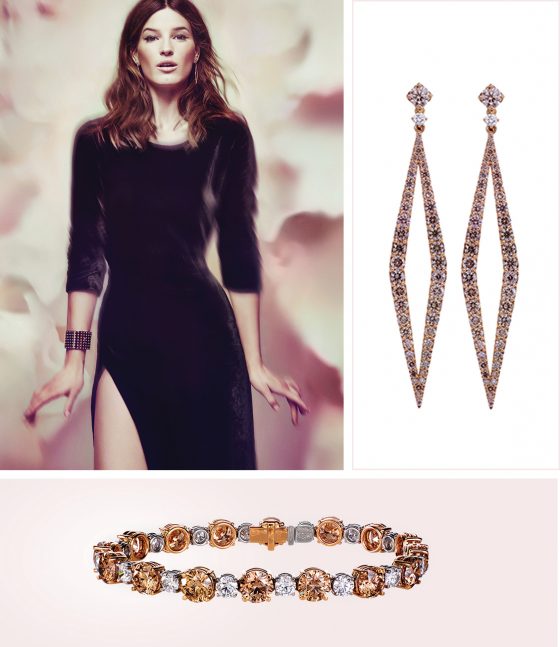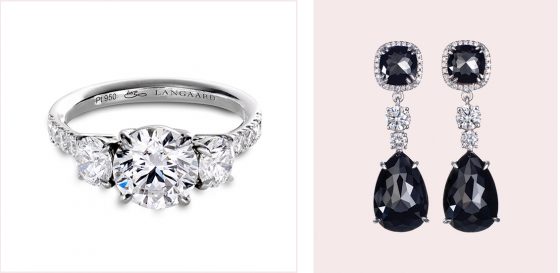 About
Hanneli Mustaparta
Hanneli Mustaparta began her career as a model. She is now dazzling the world with her style, camera and Langaard diamonds.
Hanneli`s Unique sense of style, her boldness and her attention to detail are a perfect match for the Langaard brand
Juvelér Langaard is proud to present the style icon Hanneli Mustaparta as it's new face. Mustaparta grew up in Oslo and started her career after being discovered in the street at the age of seventeen. She moved to Paris and then to New York modelling for leading fashion magazines like Vogue, Harpers Bazaar and Elle. She ended her modelling career after seven years to work as a stylist and start the fashion blog Hanneli.com. She was quickly voted as one of the world´s ten most important fashion bloggers and received International acclaim. Her focus turned quickly to photography and after barely two years she was covering street fashion in New York for Vogue magazine. Hanneli is now based in New York where she works as a photographer. Her unique, eclectic style is widely admired and she can have been seen in leading fashion magazines and at the International fashion shows.
We are so fortunate that Langaard comes from Norway. They are a prestigious jewellers and luxury brand who I have wanted to work with for a long time